Virginia Beach Ranks 4th on the List of Least Stressed Cities
Stay up to date with the latest.
Serenity by the Sea
Virginia Beach is the 4th least stressed city in the country, according to Charlotte's Web.
Their study compared the 100 largest cities using eight factors, including poverty rate, health insurance coverage, crime rate, unemployment rate, commute time, rent-to-income ratio, fitness score, and cost of living.
Boise, Idaho, has emerged as the epitome of tranquility, securing first place in the list of least stressed cities in the United States. It was one of only two cities to receive an A+ Stress Grade, with Gilbert, AZ being the other.
With its natural surroundings, welcoming community, and strong focus on well-being, Boise offers a serene haven amidst the chaos of modern life.
Residents benefit from a low poverty rate, excellent access to healthcare, and a low crime rate. A shorter commute time and a thriving outdoor recreational scene further contribute to its stress-free life.
Virginia Beach is fourth on the list of least stressed cities, and was one of just five cities to receive an A Stress Grade. The others were Madison, WI; Lincoln, NE; Chandler, AZ; and Scottsdale, AZ.
Virginia Beach doesn't have a standout score in any of the eight categories but instead excelled in most of them.
With a low poverty rate of 7.8% and only 8.3% of the population without health insurance, the city features financial stability for households and accessible healthcare. A crime rate of 16.6 indicates a safe environment, while an impressively low unemployment rate of 2.6% reflects a thriving job market.
The mean travel time to work is just 23.5 minutes, minimizing work-related stress. Additionally, the percentage of household income allocated to rent stands at a manageable 22.7%. An American Fitness Score of 54.7 suggests Virginia Beach residents place importance on both physical and mental well-being.
Beachside Wellness
As anyone from The Beach can tell you, the numbers don't tell the whole story.
Virginia Beach is a haven for wellness enthusiasts, and offers a myriad of options to nurture the mind, body, and soul.
Few things can rival the calming influence of the Mid-Atlantic region's coastal charm. With miles of pristine sandy beaches and awe-inspiring ocean views, Virginia Beach provides an instant connection to nature. It's got plenty of hiking and cycling opportunities as well.
Fitness centers and wellness studios abound, catering to a range of preferences and promoting an active and balanced lifestyle that naturally combats stress.
In Virginia Beach, the pursuit of career success doesn't come at the expense of leisure and relaxation.
In both 2021 and 2022, the personal finance website SmartAsset called the city one of the best in the country for work-life balance.
The city allows residents to thrive in their professional pursuits while also indulging in the joys of coastal living.
Diverse employment opportunities coupled with supportive employers and initiatives promoting flexibility enable locals to make the most of their leisure time, whether it's catching a breathtaking sunrise at the beach or embarking on outdoor adventures.
Two other Virginia cities secured spots in the top 20 of least stressed cities this year. Chesapeake impressively ranks 15th on the list with a B+ Stress Grade, and Arlington secures an impressive 9th place with an A- Stress Grade. Raleigh, NC, is 14th on the list.

Financial
The proliferation of high-speed internet in the last decade has made it possible for millions of Americans in every region and in many industries to consider rejecting the office environment altogether.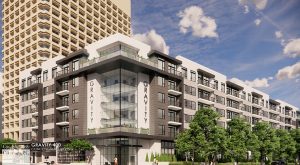 The ground floor will hold parking and retail space, and...

Entertainment
They examined 95 of the largest U.S. cities across a range of livability, employment, and outdoor…

General
Researchers at WalletHub wanted to find the best-run cities in the country, so first determined the quality of services of 150 cities by considering 38 indicators grouped into 6 categories.