Virginia Beach Among Top 10 Cities for Outdoor Enthusiasts
Stay up to date with the latest.
Discovering Outdoor Paradise
Quality of life for outdoor enthusiasts is undeniably influenced by the location in which they choose to reside.
The place we call home can significantly impact our access to natural beauty, recreational opportunities, and the overall well-being derived from an outdoor-centric lifestyle.
Cities and regions that prioritize green spaces, parks, and trails offer residents the chance to escape into nature without venturing far from their doorstep.
Where one lives can determine not only the frequency of outdoor adventures but also the depth of connection with the natural world, making the choice of location a pivotal factor in the pursuit of a fulfilling and nature-rich lifestyle.
Methodology
To find the best cities for outdoors enthusiasts, SmartAsset examined 95 of the largest U.S. cities across a range of livability, employment, and outdoor-related metrics. In terms of livability and employment, factors such as the down payment-to-income ratio, five-year change in median household income, and the July 2021 unemployment rate were considered.
To assess outdoor amenities and opportunities, SmartAsset looked at metrics including the percentage of commuters who walk or bike to work, the availability of nature parks and campgrounds per 100,000 residents, air pollution levels, the percentage of the city designated as parkland, and the state's outdoor recreation economy. Additionally, they factored in state and national park coverage.
Each city was ranked in each metric, and the average ranking was calculated, with certain metrics receiving adjusted weights. The final rankings were determined based on these averages, with the highest-scoring city receiving a perfect score of 100, and the lowest-scoring city receiving a score of 0.
Results
St. Petersburg, Florida, has earned the title of the best city for outdoor enthusiasts this year, and it's easy to see why. With a remarkable 17.64% of its total area designated as parkland, St. Petersburg offers a vast expanse of green spaces, perfect for recreational activities and connecting with nature.
The city's commitment to outdoor enjoyment is further highlighted by its impressive 0.92 nature parks and campgrounds per 100,000 residents, providing ample opportunities for camping and wildlife exploration.
St. Petersburg residents also enjoy eco-friendly commuting, with 2.8% of its residents choosing to walk or bike to work, promoting a healthier and more sustainable lifestyle. Despite its outdoor focus, the city maintains a robust job market, boasting a July 2021 unemployment rate of just 4.4%. Additionally, with a down payment-to-income ratio of 0.97, St. Petersburg ensures that residents can not only enjoy the great outdoors but also find affordable housing, making it the ultimate haven for outdoor enthusiasts seeking the perfect balance between recreation and quality of life.
Virginia Beach
Virginia Beach is the 10th best city for outdoor enthusiasts this year, boasting an array of appealing attributes that make it a paradise for nature lovers. With a substantial 16.23% of the city designated as parkland, Virginia Beach provides residents with ample green spaces for outdoor activities and relaxation. The city's commitment to preserving nature is further evident with 1.11 nature parks and campgrounds per 100,000 residents, offering abundant opportunities for camping, hiking, and wildlife encounters.
Virginia Beach also fosters a culture of eco-friendly commuting, as 2.8% of its residents choose to walk or bike to work, reducing carbon footprints and promoting a healthier lifestyle. Coupled with a July 2021 unemployment rate of just 3.7%, the city strikes a remarkable balance between employment opportunities and a love for the great outdoors. Additionally, with a down payment-to-income ratio of 0.85, Virginia Beach ensures that outdoor enthusiasts can not only enjoy their natural surroundings but also find affordable housing, making it an ideal destination for those seeking the perfect blend of nature and quality of life.
Some Highlights:
Access to Parks and Outdoor Activities: Virginia Beach shines in this category, with numerous parks, nature reserves, and recreational areas that offer a wide range of outdoor activities. Whether you're into hiking, biking, birdwatching, or water sports, you'll find ample opportunities to indulge your passions.
Percentage of Nice Weather Days: The coastal climate of Virginia Beach is a significant draw. With its mild winters and warm summers, outdoor enthusiasts can enjoy their favorite activities year-round. The sun-kissed beaches are inviting whether you're soaking up rays in the summer or taking a brisk beachfront stroll in the cooler months.
Job Opportunities in Outdoor-Related Fields: Virginia Beach's commitment to outdoor preservation extends to its economy. The city offers job opportunities in industries that align with outdoor interests, from tourism and hospitality to environmental conservation and water sports instruction.
Affordability: Unlike some other outdoor-centric cities, Virginia Beach is known for its relatively affordable cost of living. This means you can enjoy the outdoor paradise without breaking the bank.
Commute Time: Shorter commute times mean more time for outdoor adventures. Virginia Beach's layout and infrastructure make it convenient to access outdoor spaces without lengthy drives.
Virginia Beach is a city that boasts an impressive tapestry of natural beauty. From the moment you arrive, you're greeted by the sights and sounds of the great outdoors.
The city's crown jewel is its expansive coastline along the Atlantic Ocean. Miles of pristine, sandy shores stretch as far as the eye can see. Whether you prefer a quiet, secluded spot to read a book or the excitement of beachfront festivities, there's a perfect beach for you. You can relax under the sun, build sandcastles with the family, or take a refreshing dip in the ocean waters. The beaches of Virginia Beach are more than just picturesque; they're a way of life.
The city's unique geography, nestled between the Atlantic Ocean and the Chesapeake Bay, means that water plays a central role in the outdoor experience. Kayakers, paddleboarders, and boaters can explore the intricate waterways, discovering hidden coves and encountering marine life along the way. Dolphins, ospreys, and even the occasional sea turtle can be spotted during your adventures.
If you're an angler or simply love being out on the water, Virginia Beach has you covered. The area is known for its excellent fishing opportunities, whether you prefer casting a line from a pier, chartering a boat for deep-sea fishing, or trying your luck in the serene waters of the Chesapeake Bay. It's a place where fish tales turn into unforgettable memories.
The city and its surrounding areas are crisscrossed with an extensive network of hiking and biking trails. From the picturesque trails in First Landing State Park to the more rugged paths of False Cape State Park, you can explore diverse landscapes on foot or two wheels.
Whether you're a water lover, a hiking enthusiast, or simply someone who appreciates a refreshing sea breeze, Virginia Beach offers a little slice of outdoor paradise for everyone. And the best part? It's not just about visiting; it's about living and working in a city where outdoor adventures are part of daily life.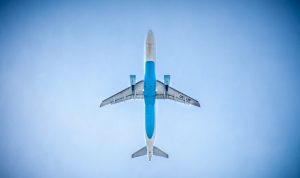 Breeze will be investing $5.2 million to bring their operation...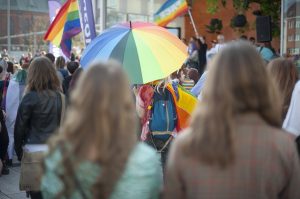 The Virginia Values Act provides protections on the job, in...

Financial
Hampton Roads life insurance agent Shenandoah.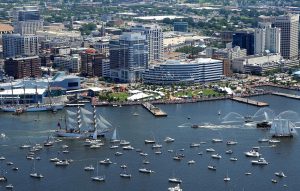 Hampton Roads
The Port of Virginia in Hampton Roads is the largest intermodal rail port on the East Coast.