The Story of the Bay – Part Two
Stay up to date with the latest.
Thirty-five million years after the comet shattered the earth, there at the mouth of the bay and on the southernmost point of the crater's outer rim is where Hampton Roads resides. The region derives its name from the body of water at its heart and attached to the bay—the confluence of the James, Nansemond, and Elizabeth Rivers—which is so called for its suitability as a roadstead, an anchorage protected from the ocean and its currents.
While by some definitions Hampton Roads includes further outlying areas, all include the family of cities with shared histories and fortunes immediately surrounding the confluence: Williamsburg, Poquoson, and York, and then the "Seven Cities," with Virginia Beach, Norfolk, Chesapeake, Portsmouth, and Suffolk south of the roadstead, and Hampton and Newport News north of the roads. The calm waters of the roadstead, and its proximity to the bay and ocean meant the region was destined to play an important role to man and woman throughout the centuries, and so it proved, with native fishermen, merchant ships, navies, and explorers all finding protection from the Atlantic and its temperament.
It was toward the end of the last ice age some sixteen thousand years ago that people first came to North America, and they would have made it to the east coast long enough ago to see the Susquehanna River Valley flood again, chasing them from their riverside villages to higher ground to watch as the water rose and drowned their homes and never receded, and the bay took on its final form. Algonquians living along the shores of the bay would have first ventured out on the waters to investigate the newly swollen body, and later to harvest from them shellfish and waterfowl and fish, and to that end felled tall trees from the forests surrounding the bay to fashion dugout canoes. When the British came they brought with them their schooners and sloops, ill-suited to the shallow waters of the bay, and necessitating the development of smaller craft with shallower drafts to travel and fish, and to dredge the bay for its oysters. The sleek log canoe would follow, then the bugeyes and skipjacks, and later the deadrises and buyboats, all designed to navigate the bay's shallow choppy waters to harvest and transport what would feed a growing nation.
Facebook Page: Please enter a valid URL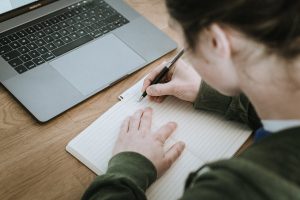 With Tidewater Community College's transfer program, you can be guaranteed...
Read More